Research Design
Drawing on years of research consulting experience, our friendly team of statistical consultants will help you create the right design for your project.
Statistical Analysis
Using advanced methods to analyze your data, we help you draw good conclusions and make the best policy and program decisions.
Program Evaluation
To justify investment in your projects, we help you measure, evaluate and communicate the real-world impact of your programs.
Since starting our little firm in 2000, we've enjoyed consulting on research programs around the world. We specialize in statistics, population research, survey design, data visualization, and scientific writing. We've got geek cred, though our clients mostly appreciate our down-to-earth, easy-to-work-with professionalism.
Dr. Philip (Phil) Hastings has provided statistical and research support to clients for over 20 years. His experience spans diverse topics from maternal & child health to behavioral and economic analysis. He brings expertise in evaluation studies and complex sampling, serving as the primary weighting statistician for several CDC surveillance projects. Phil previously served in scientific research positions for AT&T, the Federal Aviation Administration, and Singapore Aerospace. He earned his PhD in Industrial / Organizational Psychology with a concentration in statistics from the University of Houston.
Phil enjoys playing basketball, cycling, and schooling his son in games of pétanque.
AREAS OF EXPERTISE
- Population health surveys
- Quasi-experimental design
- Complex sampling & weighting
Dr. Ginger Gossman comes to Far Harbor with over 20 years of experience in measurement and methods and over 15 years of public service. She most recently served at the Texas Higher Education Board (THECB), the agency that provides oversight and coordination for higher education in Texas, as a Senior Director for Data and Policy. Dr. Gossman was part of the core team that assisted in the development of the 2015-2022 strategic plan (60x30TX) for higher education in Texas.
Ginger studied Anthropology and Sociology as an undergraduate student and earned her BA at Florida International University and her MA at the University of South Alabama. She completed her PhD in Demography at The University of Texas at Austin. Dr. Gossman began her career in public health research at the Battelle Centers for Public Health Research and Evaluation in Seattle, Washington. Her work in education began at the Austin Independent School District where she worked in research and evaluation.
AREAS OF EXPERTISE
- Higher education policy
- Strategic planning
- Program evaluation
Eric Booth has over 15 years of experience in research, evaluation design and multilevel modeling. His publications span topics such as education policy, behavioral programs and child health. He previously served as a researcher for Gibson Consulting within the Southwest Regional Education Laboratory. He held a dual appointment at Texas A&M as Sr Research Associate in the Public Policy Research Institute, and Lecturer in Graduate Research Methods in the Department of Health Policy and Management. He earned all but his dissertation towards a doctorate in Political Science and Policy Studies from Texas Tech University.
Eric grew up on cattle ranches in the Texas panhandle and now enjoys Austin city life. He plays guitar with his band and escapes on camping trips with his wife and two dogs.
AREAS OF EXPERTISE:
- Evaluations for education and public policy
- Probabilistic linkage for large datasets
- Stata analysis and programming
Dr. Shana Shaw has over 15 years of experience in research and statistical methods, measurement, and program evaluation. Prior to joining Far Harbor, she worked at the Michael & Susan Dell Foundation where she provided strategic, statistical, and measurement support for the foundation's K-12, U.S., global, and Dell Scholars teams. Her previous work was in education, where she helped to promote student and educator success. Shana earned her MA in Program Evaluation and PhD in Educational Psychology from The University of Texas at Austin. She began her career in the Fort Worth Independent School District as Data Fellow with Harvard's Strategic Data Project.
Shana is a part of a military family and grew up living in many, many states (and Guam!). She's now proud to call Austin her home but still travels whenever she can with her husband and their son.
AREAS OF EXPERTISE
- Research and statistical methods
- Program evaluation
- Survey research and design
Ella Puga has sixteen years of experience in public health epidemiology at the community and state level. She has wide expertise in statistics and analysis with public use data sets, including complex sample surveys like the Behavioral Risk Factor Surveillance System, Youth Risk Behavior Survey, as well as Census Bureau products like the Decennial Census and American Community Survey. She earned her Master in Public Health from the University of Michigan School of Public Health. Prior to Far Harbor, Ella worked in the Office of Health Affairs at the University of Texas System and the Center for Health Statistics at the Texas Department of State Health Services.
Ella is an avid Ultimate Frisbee player and enjoys traveling with her family.
AREAS OF EXPERTISE
- Medical claims data analysis
- Public health surveillance
- Data cleaning and weighting
Dr. Joseph (Joe) Pirozzolo received his PhD in Developmental, Cognitive & Behavioral Neuroscience from the University of Houston. In his graduate training he was advised by Drs. Donald Foss and David Francis and worked in the Texas Institute for Measurement Evaluation and Statistics (TIMES). Joe has experience in experimental and quasi-experimental research design, multi-level modeling, and item response theory, as well as content expertise in human learning, memory, and instruction. He has published in the Journal of Educational Psychology and presented at several scientific conferences including meetings of the Psychonomic Society and the Society for Research in Child Development.
Joe loves sports, especially baseball, which he played at St. Edward's University in Austin. In his spare time, Joe analyzes baseball statistics and presents his findings to the modest audience of his wife and young daughter.
AREAS OF EXPERTISE
- Multi-level modeling
- Item response theory
- Memory, cognition, and human learning
Dr. Fei Dong has seven years of experience in applied statistical analysis with an emphasis on population surveys. She brings deep expertise in analysis of public use data sets, including complex sample surveys like the Pregnancy Risk Assessment Monitoring System and the China Health and Nutrition Survey. Her doctoral work focused on childhood nutrition and physical activity, while her post-doctoral work entailed massive data array analysis in genetic epidemiology. She earned her PhD in Nutritional Epidemiology from the University of North Carolina at Chapel Hill.
Fei enjoys family hangouts, classical music, and exploring the Chicago food scene to find authentic home-style Chinese cuisine.
AREAS OF EXPERTISE
- Population health surveys and analysis
- Nutritional epidemiology
- Stata programming
Dr. Abel J. Koury is a developmental psychologist with over 15 years of experience in data analysis and research design. His work is broad but unified, centering on the roles of race, ethnicity, and socioeconomic status in shaping life circumstances. Abel has expertise in working with large-scale, longitudinal datasets including the Early Childhood Longitudinal Study datasets (e.g., ECLS-K:2011). Abel worked at both non-profits and universities, before creating his own consulting company, Compelling Analytics. He joined Far Harbor to continue his mission of using best practice in data analysis and research design to help organizations deepen their impact through compelling storytelling. Abel earned his PhD in Developmental Psychology from the University of Pittsburgh.
In his free time, Abel enjoys checking out (too many) books at the library, drinking coffee, and doing the crossword with his partner and their two dogs (the dogs are not much help).
AREAS OF EXPERTISE
- Secondary data analysis
- Research design and methodology
- Early childhood development and education
Dr. Matt Messel has over ten years of experience in program evaluation and applied economic research. In graduate school, he worked with the Baltimore Educational Research Consortium (BERC) to identify predictors of high school dropout, graduation, and college enrollment among Baltimore Public School students. On an Institute for Education Sciences (IES) grant he received extensive training in econometric methods, including instrumental variable analysis, regression discontinuity, and hierarchical modeling. After his post-doc, Matt led the Social Security Administration's Retirement and Disability Research Consortium, a national network of research centers supporting more than 75 projects annually. He served as an expert in administrative and survey datasets, leading research teams and briefing the Office of Management and Budget (OMB) and the White House Domestic Policy Council. Matt earned his Ph.D. in Sociology from Johns Hopkins University.
In his free time, Matt enjoys swimming at Barton Springs and hiking his way through the National Park System.
Areas of Expertise:
- Quasi-experimental methods
- Education and public policy analysis
- Administrative and panel survey data
Dr. Elizabeth Teas earned a dual PhD in Human Development & Family Science and Gerontology from Purdue University. Her interdisciplinary dissertation work was funded by the National Institutes of Health, and her publications span topics such as successful aging, health across the life course, and quantitative methodologies. Elizabeth has presented research at several scientific conferences including meetings of the Gerontological Society of America and American Academy of Health Behavior. Prior to graduate school, Elizabeth worked in higher education and business consulting.
A rare Austin native, Elizabeth enjoys playing sand volleyball, running marathons, and adventuring around Texas with her husband and son.
AREAS OF EXPERTISE
- Longitudinal data analysis
- Latent variable modeling
- Mediation/moderated mediation
Pat Malone has worked in quantitative psychology for 25 years. His specific research topics in methodology include longitudinal modeling, analysis with latent variables, and analysis of mediated or indirect effects, with an interest in modern methods for causal inference. Pat has worked substantively in the areas of clinical child development, education policy, substance use and abuse, and adolescent health risk behaviors, among others. He has held affiliations with Duke University, the RAND Corporation, and the Department of Veterans Affairs, as well as been tenured faculty in quantitative psychology at the University of South Carolina. He earned his PhD in social psychology with a minor in research methods and statistics from the University of Texas at Austin.
In his free time, Pat enjoys reading science fiction, fantasy, and crime fiction and spending time with his wife and son and Hudson their Welsh Springer Spaniel.
AREAS OF EXPERTISE
- Longitudinal analysis
- Latent variable modeling
- Mediation analysis
Spanish explorers nicknamed this bird 'bobo' (foolish). And yet somehow the species managed to figure out gender equality. This proud blue-footed daddy splits his time in equal measure with his partner: raising the kids, going fishing and dancing. Google it!
What's with the name Far Harbor? Well the principal enjoys tales from the golden age of discovery with intrepid scientists voyaging to distant lands. In fact he shot this photo at a far harbor visited by Charles Darwin. Nowadays the descendants of those scientists make discoveries across new oceans (of data)...
THE X-TEAM
For a particular set of skills we call our league of super scientists.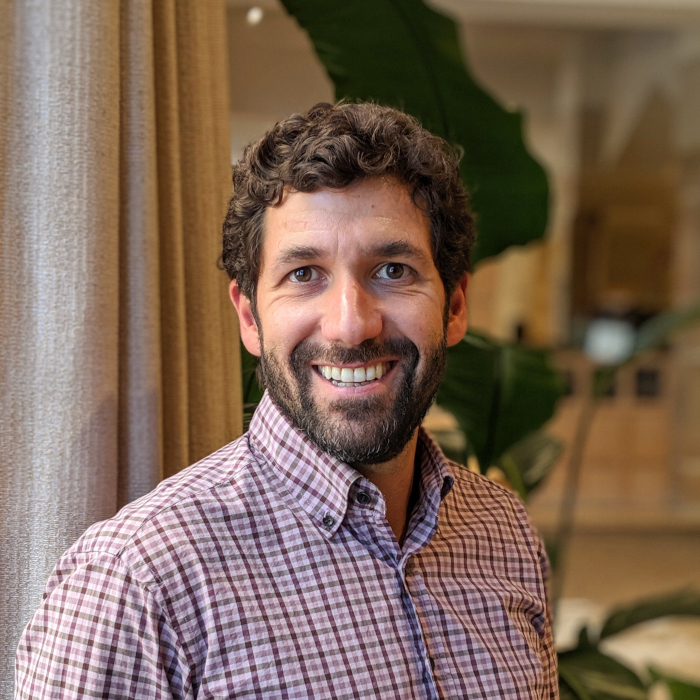 Devrim Ikizler, PhD
Sr Research Economist
Ashleigh Hope, PhD
Research Statistician
Larry Price, PhD
Sr Research Statistician
Julie Paasche
Sr Survey Researcher
Sam Field, PhD
Sr Research Statistician
Nate Marti, PhD
Sr Research Statistician
Ghaz Samandari, PhD
Sr Research Scientist
Charles Lindsey, PhD
Sr ML Statistician
For over twenty years we've earned a reputation for excellence among government, nonprofit, and private-sector clients. Our firm is registered with Dunn and Bradstreet, the US Small Business Association and the US Central Contractor Registry. We are also proud members of the American Statistical Association and the Union of Concerned Scientists.